Corp. Elmer Buswell
(Boston, Usa 1895 - Montcornet, France 1918)
"Back Bay soldier dead in boche camp"
Word has been received by Dr. and Mrs. Arthur T. Buswell of 265 West st. of the death of their son, Corp. Elmer Buswell, at Camp Montcornet on July 31.
Dr. Buswell was notified through the War Department some time ago of the fact that his son was numbered among the missing. A letter received today (nov. 19.1918) from the Red Cross tells of this death at the German concentration camp from wounds received in battle.
Corp. Buswell, a member of the victorious engineers of the 101st, was wounded at Chateau-Thierry. His brother, Arthur T. Jr, a member of the same compagny, saw him fall and ran to his rescue.
Leaving him for a moment, he rushed back to the lines for his first aid equipement. When he returned his brother was missing. Although his name never appeared among the list of German prison camps, it was assumed that he had been taken captive and carried to the enemy lines.
Corp. Buswell was born in Boston 23 years ago. He attented school at Barton, Vt., and at Lawrence Academy, Groton. He graduated from the Theodore N. Vale Institute at Lyndon, Vt., later taking a post graduate course in agriculture at Amherst. At the time of his enlistment he was engaged in the shoe business in Boston, attending at the same time Burdett Business College.
Corp. Buswell enlisted with the 101st Engineers last March, training at Wentworth Institute. At the time of his death he was in line for a promised promotion to lieutenancy.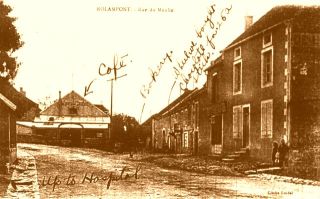 A l'occasion de son passage à Rolampont, Haute-Marne,
Elmer Buswell annote cette carte postale














© 11.11.2003 - MAJ : 19/11/03
Page d'accueil || Les combattants de Rolampont morts pour la France || Retour